6/14/2010

7698

There were NO winners.

If you want to be a winner next time, check out the Mega Money Madness under the GAMES icon.




6/13/2010



For years I have been ridding the city streets of strays and unwanted newborns. After countless hours of testing products on these homeless specimens, I am finally close to perfecting my own Fur Tonic. Sure it has some side effects, but who can't live with that for looking this good?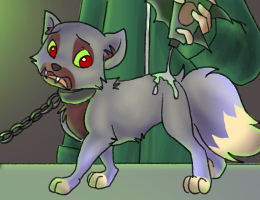 You better keep your powerbucks ready to buy it. If you don't buy one, maybe your pets will be the ones I will have in my laboratory next time.




---


First Place Card Player: Lukies
Runner Up Card Player: Andrew_10

If you want to be a winner, play the card games bonus games!




---





First in line is COMM - the Powerpets General Communication Services which currently include most communication services provided to Powerpets players within and outside of the Cities of Powerpets.



Next up is PERL, the general stock to determine the value of the Abyss Pearl industry.



Last but not least, Stickers is receiving his very own stock, STFF. This stock only deals with Stickers Fish Food.



The Powerpets Trading Commission is currently aggregating usage data from all three companies and is expecting to be able to release shares citizens can purchase later on this week. Keep an eye on them in the meantime so you can learn when to invest.




---






6/12/2010


Kikilala
Gracemo12
cecade
Brookalyn_18
cecade

If you want to be a winner next time, check out the Luck of the Draw - Available at the House of Luck in Badgeria!




6/11/2010


christyb2852
mjoseph222
Zuleeka
Auryona
Chattytoes
FyreSong
k8k
LyonessJade
PELIPPER
miache

They were randomly selected out of all the correct entries and have a received a vault code for CA Red Party Hat

To participate in the new Miles Magic Box, head over to Badgeria and visit Miles! All you have to do is figure out what items Miles is describing in the three hints he gives.




---


This version of Powex is aimed to resolve certain issues brokers were
having since the Powex II change a few years ago.



Powex III is now backed by the Eurobank. That means part of the fees
will be used to fund the Eurobank interest rates.



Powex III steps away from the daily rate change system and introduces a
live update system. Share values are updated based on usage every 4 minutes, however to keep the system from being unfairly influenced, usage isn't recorded immediately.



Since each company will have a limited number of shares available on the market, shares expire after 7 days to be reintroduced to new buyers. You can go back any time to collect the funds from that share after the 7 days expire. Companies may add or remove shares for sale from their inventory at any time.



Shares can be bought or sold at any given time. Be aware that there is a 3% transaction fee on all share sales. An excellent graph shows you the share fluctuations over the past 24 hours.



Questions and Answers

I purchased stocks on the old POWEX. How do I get my money back?

If you purchased those stocks today, you'll receive the funds tomorrow when you go to POWEX and click on My Portfolio.



I had stocks on the old POWEX that I forgot about. How do I get my money back?

Go to POWEX and click on My Portfolio. Any outstanding stocks that have expired will be refunded to you automatically.



I want to purchase GAME shares, but none are available.

Each company has a limited number of available shares. During the month of June, companies will be making major adjustments to share availability. After that, adjustments will be fairly minor.

Shares become available when someone sells theirs or when someone has shares that expire after 7 days or when a company decided to increase it's available share inventory.



How do I know if a share is a good investment. Will I lose Powerbucks?

You will have to watch and learn when to buy and when to sell. There is a chance you'll gain Powerbucks and there's a chance you'll lose Powerbucks. That's a chance you have to take.



What if I can't be here when I want to sell my shares?

Don't buy the shares.



Why are there two numbers under Value Now in My Portfolio?

The top number is the actual value of the share. The bottom number is the amount of Powerbucks you'll receive when you sell. (Actual value less 3%)



This all sounds complicated, can you explain it better?

Buy stuff when the value is low, sell it when it's high.



I'm in Australia, does this give me a disadvantage over people in the US?

No, shares fluctuate every four minutes. There is no advantage or disadvantage given to any specific time zone.



Some companies disappeared. Why? Tell me why? Please oh please tell me WHY!!

Certain changes had to be made. Under the new system, usage data has to be gathered for several days before a company can be activated. We are currently aggregating data for several new companies. They will be available for purchase soon.



Good luck!




---






---





Free Bingo has commenced early this morning and will continue to run until Sunday night. Over 200 million in Jackpots to be won. You don't want to miss this one.



In between Bingo games, why not take a shot at winning the Sleigh Slots jackpot which is currently at 90,000.



Get in the PP spirit by putting a few bottles of pop by your desk, have some questionable food near the microwave and keep the coffee brewing all weekend long.




---





He expects to be ready for it this very weekend. Let's see if his plans actually work out that way. Stay tuned!




6/10/2010

Cattle Ranch! How do you rate this game? New favorite, indifferent, or cannot stand it?



Visit the Poll Booth to let us know!





---



---

1127

There were NO winners.

If you want to be a winner next time, check out the Mega Money Madness under the GAMES icon.




6/9/2010








This week, the award goes to Stadamaire , the little pug/chihuahua who seems to be having some ear issues! We wish him a full recovery soon. Check out their blogs to find out what they have been up to!

For having an up-to-date blog with cute pictures, they have earned their owner esvisia a free account upgrade!



Make sure you don't forget to put your real life pets in the Pet Zone!



Who knows, they might win the next Pet Zone contest.




---


Once again Sweetfire is 29. Happy Birthday Sweetfire!



Hint: Everyone knows she loves bags of slime ;)




---



Yes sireeeee .. you are seeing right. Gecko City Bingo is here once again for a fun and prize filled day, tomorrow, Thursday, June 10th.




Our game schedule has been set as follows



:00 Nova Challenge - Top of the hour 25K Bonanza (Variety game)

:15 Chubbs Cheapies - regular game

:30 Gekkie Carnival - variety game

:45 Stickers Quicky - regular game




Game Prizes will be awarded to the First Place winners in each of the following categories :


Most Nova games

Most Chubbs games

Most Gekkie games

Most Stickers games

Highest total wins for the day ( all wins combined from all categories )




*** Crazy Eights ***



In keeping with the 8th Anniversary Celebration of PowerPets, the first name listed on the winners page for the folowing games will also receive 50 Power Credits!! at the end of the month.



Power Credits will go to the first name listed for these games :



6/10/2010 8:00:00 AM

6/10/2010 8:15:00 AM

6/10/2010 8:30:00 AM

6/10/2010 8:45:00 AM



6/10/2010 8:00:00 PM

6/10/2010 8:15:00 PM

6/10/2010 8:30:00 PM

6/10/2010 8:45:00 PM






Gecko Citizens have provided a lengthy list of prizes, which will be randomly selected for category winners ::



w-w stuffy

angel coon hound stuffy

Bee1843 Stuffy

Gekkie Slime Cupcake

Cloudy Lion Cub Stuffy

Rainbow Dikdik Stuffy

2 (4 pack) Lucky Silver Coins

Rainbow Unicorn Stuffy

50 KBS

3 Paddy stuffies

2 retired books

2 Love Dog Stuffies

2 Fire Slime

5 Winter Fur Tonic

2 Tea Ceremony Invitation

Radioactive Donut

Slime Lollipop

Radioactive Witch Hat Sucker

Game Show Invitation

Baby Kuvasz

Slime Dikdik Stuffy

Ballet Bear Stuffy

Baby Cheetah

Slime Candy Corn Sucker

Stray Shepherd Stuffy

Halloween Fur Tonic

Land Deed

Love Chipmunk

Green Lion Cub Stuffy



** Donators reserve the right to gift an alternate prize if winner is a non member and prize offered only meets swap barn requirements for members.**




As well as the prizes that have been donated, some Gecko citizens will be offering incentives on Beginners Forum throughout the day. Don't miss your chance to win!!



We look forward to seeing you all there and best of luck to everyone!!



---- We will be keeping track of wins so all you need to do is play and enjoy ----




---


Roheryn
JaneyCrystal
Telekon
ari5mcd
Llys
ImaginationThat
FelineExpress
Wembly
casperkitty
Sweeti4Jesus

They were randomly selected out of all the correct entries and have a received a vault code for Rainbow Duckling Stuffy

To participate in the new Miles Magic Box, head over to Badgeria and visit Miles! All you have to do is figure out what items Miles is describing in the three hints he gives.




---

magic box twice a week and shoot some minis in Badger Blast.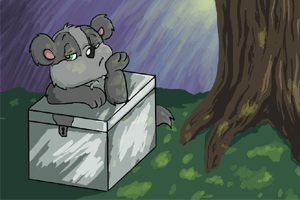 I decided to go out and tour the cities a bit. It didn't take long before I ended up in East New Barkston. It's there that I saw it, in the Museum Gift Shop. A super cool Herman the Game Guru stuffy. This is something I needed to have. Even after haggling with Callie for an hour, she still insisted that the only way to obtain the stuffy was to bring an artefact from the jungles of Chimu to the Ancient Museum.



The next day, my journey to Chimu began. Once there, I inquired about getting through the jungle. Herman told me the only way to make it through alive, was to bring a complete Jungle Puzzle Map to Nanners. Using the map, Nanners would guide me through safely. Herman then continued to say that he would give me pieces of the map for free. All I needed to do was beat him at some games. That couldn't be too hard now, could it?



It was many hours later that I finally became very frustrated. Herman kept beating me at every single game, including Badger Blast! Finally I threw down the remote control and stormed out.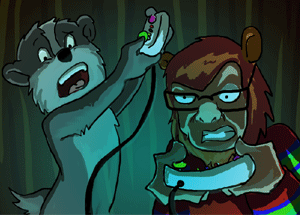 Back in Badgeria, there was a big lineup at the Magic Box. The people waiting stared at me unhappily as I approached. So much excitement for my magic box? That was odd. When I asked why they were so impatient, they said I was late with the box results.



I tried to explain that I still had several hours, when someone told me it was WEDNESDAY! Oh boy. I must've challenged Herman for two days straight. No wonder I was so hungry.



Just hang in there for a few more minutes everyone, while I check out what items staff sent me for the next box...




---




* On Friday and Saturday, all bingo games will be worth 250,000 and up.


* On Sunday, all bingo games will be 1 million each. That's right, 1 million powerbucks each game.


Come on out and have some fun with us this weekend and grab your share of over 200 million in PB prizes!




---


calvinorion
Kabby
skylar1
242526a
calvinorion

If you want to be a winner next time, check out the Luck of the Draw - Available at the House of Luck in Badgeria!




6/8/2010











Contradictant - What's cooking? Featured with her son

TheChad - In his army uniform, taking a little break from protecting the country, playing with his kitty who is free to eat whatever food he wants and meow any time he pleases because even his rights are protected.

Bee1843 - A second time winner. She has received her baby stuffy. Find her playing with her kitty!



Congratulations winners. Your stuffies will be for sale in the Upgrade Center.




---





Dear Tony & Liz,


This letter is to thank you for your generous donation of stuffed animals to help children with Autism.


The colors and textures of these stuffed animals will work wonders for them.


Once again, thanks.


The Stepping Stones



On behalf of myself and Tony, we would like to thank our players who did purchase our stuffed animals in the past and helped us make a difference in assisting animal organizations.





---



4 PM PP Time to 5 PM PP Time - Power Hour

6:30 PM PP Time to 7:00 PM PP Time - Creator's Hour - Sweetfire and TheMetal will be on beginners forum answering any PP questions you may have.




6/7/2010